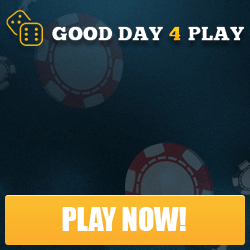 Good Day 4 Play Casino (GDFplay) – review:

Introduction
Relatively new to the online gaming business, Good Day 4 Play has already established their reputation for being one of the best at what they do. Providing the best quality gameplay by the use of high-level software, GDFplay delivers the best online gaming experience to its users. Available in both Russian and English, GDFplay is gaining popularity among the global community of poker players at a great pace. Due to the work of some great programming, GDFplay is available on computers but also on tablet and mobile devices.
Gaming with Good Day 4 Play Casino
Good Day 4 Play offers the player with a variety of events to choose from. But Rockets vs Hammers is the most looked forward poker event. With a prize pool of $1000, it takes place on the second Sunday of every month. The most exciting part of the event is the additional prize of $25 if the player wins an all in with a 7-2 pocket.
While most of the low limit and micro tables hosts poker, some of the other popular games at GDFplay are Hold'em and Omaha. With a few variations of poker available such as 7-card Stud, Americana and Draw Poker, GDFplay provides some very special offers to players who are making their first deposit. To make them get comfortable with the way the game is played at GDFplay, a separate game table is given for players for 120 days after the first deposit is made. With each of these separate tables marked in green, the tables are called Novices tables, and it helps the players to develop their skills during the provided time period. The gaming level of these tables is low, and it is not accessible to other players who are not in the 120 days grace period.
GDFplay also offers freerolls with a daily prize pool of $400. This helps the new to start with the game without any funds or by spending the minimal requirement. Some of the multi-table tournaments have very low buy-ins of $1.65 in a daily prize pool of $400.
There is a Sunday Bounty that takes place at GDFplay with a prize pool of $1000. As said above, the buy-in for this event is as low as $3.3. The Bounty payment is from $10 to $50 and is received for kicking out competitors from the tournament.
Bonuses and Loyalty
GDFplay offers a first deposit bonus that can go up to $2500 – which is 200%. The wagers have to be of $10 for 150 points and bonus amount can be used up to 6 months from the day of deposit. The points will be earned according to your VIP level which ranges from Iron, Silver, Bronze, Gold, Active, Platinum, Shark and Elite. The player will stay at Elite level for a year if the points earned are at or over 75,000.
In addition, new players get 50 free spins on Rabbit in the Hat slot machines by Microgaming.
Payment Methods
The methods of payment include Master Card, Visa, WebMoney, Skrill, Neteller and more and GDFplay offers the guarantee of not sharing any personal or financial information with a third party.
Licensing and Restrictions
Owned by WoT N. V. Limesco Limited, GDFplay is part of the PokerMIRA Network. Licensed by the Government of Curacao, GDFplay is available all around the globe except in countries such as Turkey, Cyprus and The United States.
Conclusion
GDFplay is by far one of the best online gaming choices for any poker players. With some amazing joining offers and bonuses up for grabs and a 24/7 customer service, GDFplay is sure to become one of the pioneers in the gaming industry with the array of games they provide.
Overall rating: 9/10.