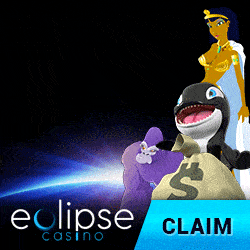 Is Eclipse Casino good to play? Let's review it! 
When the Moon casts a shadow on the Earth coming between the Sun and us, it's called an eclipse. And when we're in the shadows, we want a whole different kind of fun under the rays of the Sun, right? Well, there is a special place where you can get what you want. It's Eclipse Casino. Nevertheless, nothing's going to overshadow our independent opinion, so don't hesitate to follow up and read our review!
General Information 
Eclipse is a rather unusual type of online casino. The first thing that surprises you once you open this website is its unique design. We want to warn you right from the start – this one is not going to look like any casino that you've seen before. No black and red, no gold, no dice and card symbols, no roulette wheels. Eclipse Casino is not trying to mimic a real casino establishment. Instead, it provides digital fun that you won't get in the real world. Indeed, where in the world can you travel to the Moon to have a game or two? But at Eclipse Casino, it's quite common. So, let's move on with this cosmic review!
Turning back to the Earth matters, the casino was established in 2017 and since then has shown exponential growth. They've got a license from Curaçao, which makes this casino perfectly legal for play in many countries around the world unless online gambling is totally banned in the place of your residence. They offer all kinds of casino games, yet you won't see any sportsbooks whatsoever.
The design corresponds to the cosmic theme, made in dark and cold tones. The menu buttons look like celestial objects that are hovering in zero gravity. Perhaps, because of the user-friendly layout or because of some thought-out inner logic, the site is easy and fun to navigate. This cosmic theme is incredibly engaging – you want to stay in this place for longer and come back the next day.
Bonuses & Promotions at Eclipse Casino 
You're being led through the whole registration process at this casino, which is quite straightforward — you just need to enter the details about yourself. To make sure that you're over 18 and that you live in a country that doesn't prohibit gambling, the casino will ask you to pass the identity approval process. It also shouldn't take a lot of time — it all boils down to sending one letter and answering one phone call. After that, you'll be able to play for real money.
So, after you've transferred your first real deposit ($25+), you'll be greeted with a luscious Welcome Bonus. It's quite big — we're talking about a wholesome 300% Slots Match! Plus, they offer a 100% cashback on the very first deposit, which is an awesome feature that you'll rarely meet anywhere else.
On weekends, Eclipse guarantees lots of fun, as it's time for their weekend promotions. Usually, they promote a game, for example, the Rise of Poseidon slot. So on weekends, you can claim 180% Match on all slots and 40 Free Spins exactly on the promoted game. And if you use this bonus three times, you get an additional Free Chip of $25 value. However, the minimum deposit for this promotion is $70. There's also a Game Special promo, with at least $100 deposit where you get 210% Slots Match and 45 Free Spins on one of the games.
Finally, a Monthly Offer includes bonuses that correspond to the deposit amounts. This special offer is available both for slots and cards, but the amount of bonus money is going to be higher for slots. That said, on top of $25+ deposit you get 135% Slots Match, $50+ brings you 155%, $100+ brings 185%, and $150+ deposit gives you 215% of the bonus money on slots. As for cards, you can redeem 100% bonus money on $25+ deposit, 120% on $50+, 135% on $100+, and 150% cards match on $150+ deposit. After making two deposits, you are eligible for 50% cashback on the biggest deposit. And if you've already made as much as 4 deposits,100% cashback on the biggest is going to be yours!
Exclusive No Deposit Free Chip Bonus Codes: 
$60 Free Chip: 60CRAZY, 60SPEEDCAR, 60WHISKEY, 60COURT, 60BLESSME, 60GOLDENCLAWS
$50 Free Chip: 50GOLDENDUST, 50WEALTH, 50GOLDENDUST, 50DREAMS, 50KILLING
$45 Free Chip: 45MAYBELUCK, 45SLOTSSPACE, 45IMMORTAL, 45MOVIE, 45LIONSTIME
$40 Free Chip: 40LUCKROCKET, 40IRISHGLORY, 40SPACETRAVEL, 40TRUEMONEY, 40MURDER, 40FREECROWN, 40SAVANNAH, 40ROYALLION, 40WOW, 40FREEPOWER, 40KIDNAP, 40CAPO, 40FASTERSPIN, 40BANKINGNOW, 40FREECHIP, 40SHOTNHIT
$35 Free Chip: 35SPACEJOURNEY, 35BESTPLAYER, 35FREEMONEY, 35BIGGERBETTER, 35CHARM, 35SUPERSLOTS, 35WILDSTAR, 35JEDI, 35GOODLUCk
$30 Free Chip: 30PERFECTFORYOU, 30LIONSLUCK, 30LAUNCHING, 30MOUNTAINLION, 30INFINITY, 30EXCLUSIVE, 30YOURSPECIAL, 30CASINO
$25 Free Chip: 25JACKPOTSTAR, 25GAME , 25STARCHIP, 25REELS, 25ROYALSLOTS, 25LUCKYREEL, 25WANTLUCK, 25Catching, 25FOURLEAF, 25INTHESKY, 25FREECASINO, 5UWIN, 25WEALTH, 25FAMILYRULES, 25FAMOUSREEL, 25SLOTS
$20 Free Chip: 20WIN, 20MOONSLOTS, 20TOPLAYNOW, 20FREECASH, 20WIN, 20STARSHINE, 20DON, 20GIVEAWAY, 20IRISHLUCK
$15 Free Chip: 15LUCKYSLOTS, 15KINGSCHIP, 15VEGASLION, 15CASINOPLAY, 15MOONLITE,15MAGESTICWIN, 15LIONRUN
$10 Free Chip: 10HONOUR, 10REVOLUTION, 10GO4SPIN, 10BOMB, 10SOPRANOS, 10EXTRA, 10GOODTRYCASINO, 10JUMPINGLION, 10STARSLOTS, 10AMAZINGWIN, 10TOPSLOT
$5 Free Chip: 5TRYGAME, 5SAFEGUARD, 5FREEDOM, 5FORWARD, 5LUCKYLION, 5GETREADY, 5GREATFUN, 5MAGIC, 5FREEBUCKS
Games & Software at Eclipse Casino 
When you open the game page of Eclipse website, you see as many games as stars in the sky. Indeed, a the moment of writing this review, we've counted more than 190 games available for instant play, most of them are slots.
If you're up for something new and hot, you can try games like King Winalot, Hot Hand, Smoking Gun. And for those who like old-school slots, we can recommend games like Diamond Cherries, Gold Bricks, and Almighty Dollar – three reels, just like in the good old days!
Another cool type of slot is i-slot. Simply put, they will lead you through adventures with a certain goal, making it much more interesting to play. Mostly, these are the games that remind of spy movies, such as Spy Game and As the Reels Turn.
And of course, fans of cards and other traditional games won't be disappointed. Here you'll be able to play Video Poker, as well as Craps, Roulette, Baccarat, Blackjack, Bingo, Keno, and Sudoku.
Payments at Eclipse Casino 
It seems that Eclipse Casino has reached quite a high level of services provided. For now, it offers many payment options, and you can choose any of them according to your personal preference. The currencies available at the moment are $, €, and AUD. Only one of them can be selected as preferred in your account.
Each time you deposit real money no matter the chosen method, they will immediately be available at your account. The limits per week are $25-$1000. How can you deposit? It's easy — choose any of these methods:
Visa
Mastercard
Bitcoin
Paysafecard
Skrill
Neteller
For withdrawals, you're going to have fewer methods available, but only the safest ones:
The limits are $100-$2000 a week. Wait up to 7 business days and take your winnings!
Support at Eclipse Casino 
Just like at any high-quality online casino, at Eclipse, you'll be able to communicate with a Support Team in a few ways. Those are live chat, charge-free phone +1 702 637 05 36 (US) and +33 4 1368 2294 (FR), and, traditionally, e-mail ([email protected]).
Verdict 
Eclipse Casino is a good choice if you are bored with the generic casinos that look all the same. And here, the experience is so immersive that you start believing that you're on a special mission. Actuality, it turns out that you've got a dedicated team, good gear, what else do you need? Ah, good luck, of course! Getting down to business, our rating for Eclipse Casino is 5 out of 5.
| | |
| --- | --- |
| Pros | Cons |
| One of a kind design | Could be more gaming providers |
| The newest games in the industry | |
| Variety of payment methods | |
| Friendly and helpful managers | |
| Really nice bonuses | |