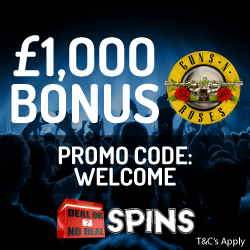 Deal Or No Deal Spins – online casino – review:
Introduction
Deal or No Deal Spins brings the popular television programme to the devices of slots gamers everywhere, welcoming players with striking designs, the studio background, and exclusive Deal or No Deal-related games!
The site's homepage, despite being scrollable, is relatively compact, so there's no need to worry about being initially overwhelmed by the vast choice of games that the site has to offer.
Banker references are never too far away on this site, neither are the exclusive Deal or No Deal Spins bonuses, as this site is brought to you in an exclusive partnership with Endemol Games, giving a truly authentic Deal or No Deal experience.
Before you can make any deals, however, you must sign up, which is easily done by clicking the 'Sign Up' button on the right side of the homepage, and then by filling out some personal details and a chosen payment method. You'll then be ready to deposit and spin with The Banker.
Games To Deal With
At Deal or No Deal Spins, there is enough going on to keep you making deals again and again, from a choice of more than 300 slot games, to special D'N'D games.
You can choose from 300+ of the best slot games available online, including the ever-popular Starburst, Pixies Of The Forest and Golden Goddess, alongside tonnes more!
Deal or No Deal Spins is also part of the Dragonfish network, so that the slot games available to play are provided by a number of different suppliers! You'll never be bored playing television, popular character and music-themed games on this site.
On the homepage, the games are also divided into categories, letting you know which ones that Deal or No Deal Spins recommends, which ones are new and which games are based on the television programme itself.
The Deal or No Deal games on offer include Deal or No Deal: Tens or Better and Deal or No Deal: European Roulette. The casino has worked alongside Endemol to offer you a completely engrossing gaming experience, stemming beyond just slots.
The Banker's Offers
Aside from the attractive Welcome Bonus that you can receive by signing up, The Banker also has ongoing daily offers for you, including The Banker's Cash Machine and The Banker's Call, so that the deals can keep on coming.
The Banker's Daily Deal also allows you to play for free, every day! This gives you the chance to win big prizes in the form of cash, bonuses and free spins. You'll also receive a generous Welcome Offer from The Banker when you register on Deal or No Deal Spins too, giving you an extra £10 to play with! Then, you will qualify for £1000 match bonus and 100 free spins on top!
This is great, of course, but you may have trouble choosing which games that you want to spend your bonuses on!
You also have the opportunity to earn money just for referring a friend; simply invite a friend to play in the casino, and when they deposit, you'll receive a £10 bonus! This isn't limited to just one friend either, so the more friends you refer, the more money you earn!
Deal or No Deal Spins gives players ongoing incentives to come back for more spinning fun, with bonuses and offers around every corner to keep the fun coming from all angles.
Bank On A Good Time
With plenty of choices and striking official assets, Deal or No Deal Spins is a winner in our eyes, combining online slot games and the ever-popular television programme. We think that the programme's anonymous Banker also lends itself particularly well to this slots site, dishing out offers in abundance!
Deal or No Deal Spins offers an outstanding amount of slot games, giving spinning enthusiasts plenty to play with. For those of you seeking something a little extra, this site also features a few added Deal or No Deal extras! We'd definitely recommend coming to make a deal with this site.
Overall rating: 8,4/10.